From last year,  Mictrack released the world first NB-IoT GPS tracker MT550, and then launch the OBD GPS Tracker MP90-NB and NB-IoT Personal device G902. and now all over the world focus on the NB-IoT technology and would like to catch up the opportunity of IoT business. However,  after test for a year with a lots of clients and mobile carried and we found the NB-IoT device is complex to connect to local server and network, compare the traditional 2G, 3G and 4G GPS Tracker. but final we pass the test in some of countries or regions.
Early in this year the Vodafone China Team visit our office and advise" slow down the promote to the market" because of the network reason, we also aware of this. and in July the China Telecom upgrade their NB-IoT base station again and all our device can not works and then we have to send then all to Quectel for upgrade, of course the device firmware also need update. In Europe, most of clients test them in local Lab only and the with the trial APN. So we think also need much long time for the commercialize of the NB-IoT market.
Our engineer open the serial port so the customer can customize the IP, port and APN info, This will be very convenient for users to conduct network testing. like the MT550 and MP90-NB, we will share some of  NB-IoT network test in the past few years.
We worked with Huawei and STC (Saudi Telecom Company) from Dec, 2017 and final pass the local NB-IoT test after 4 months. We choose the MT550 and MP90-NB for the IoT device to verify the NB-IoT B3 and B28. (check the full report from this link:https://www.mictrack.com/downloads/report/STC_NB-IoT_Trial_Report_GPS_Tracker_B3&B28.pdf) .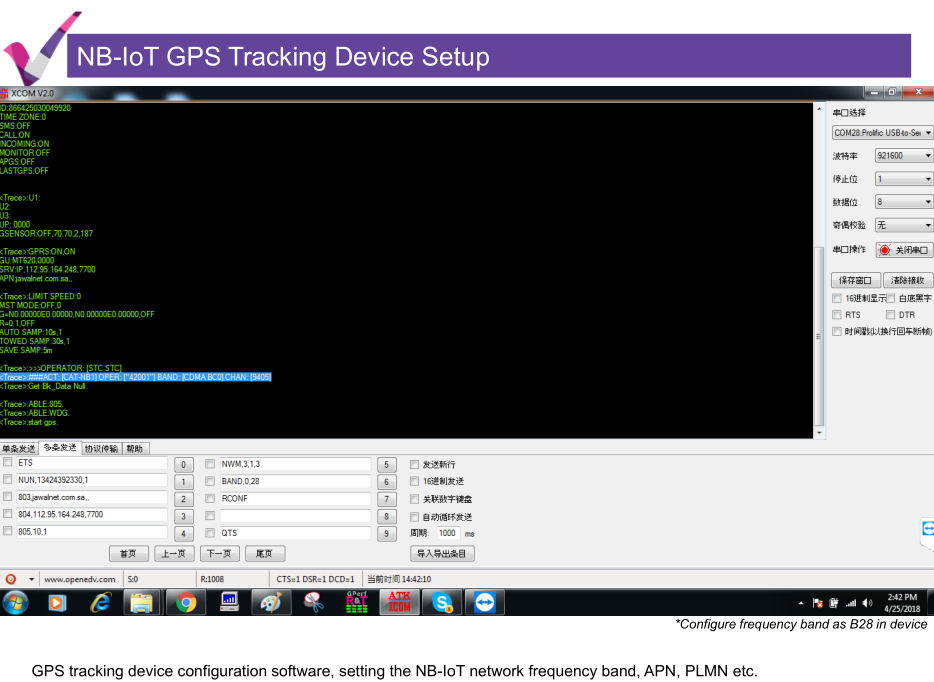 2. Telenor NB-IoT B20
3. Telstra NB-IoT B28
3. Far EasTone NB-IoT B28
4. Mictrack has pass the following network test with NB-IoT GPS trackers: (we will continue update after get new test)
Country/Region
Operator
Frequency Bands
Test Devices
Result
China
China Telecom
B5
850MHz
MT550/MP90-NB/G902-B5
PASS
China Mobile
B8
900MHz
MT550/MP90-NB/G902-B8
PASS
China Unicom
B8
900MHz
MT550/MP90-NB/B902-B8
PASS
Australia
Telstra
B28
700MHz
G902-B28
PASS
Taiwan
Far EasTone
B28
700MHz
MT550/MP90-NB
PASS
Chuanghwa Telecom
B8
1800/900MHz
MT550/MP90-NB/G902-B8
PASS
Saudi Arabia
STC
B3/B28
1800/700MHz
MT550/MP90-NB
PASS
Spain
Telefonica
B20
800MHz
MT550/MP90-NB/G902-B20
PASS
Germany
1nce
B8
900MHz
MT550/MP90-NB
PASS
Italy
TIM
B20
800MHz
MT550/MP90-NB/G902
PASS
Singapore
Singtel
B8
900MHz
MT550/MP90-NB/G902-B8
PASS
StartHub
MT550/MP90-NB/G902-B8
PASS
Chile
Entel
B28
700MHz
MT550/MP90-NB
PASS
Mexico
América Móvil
B28
700MHz
MT550/MP90-NB
PASS
Turkey
Vodafone
B20
800MHZ
MT550/MP90-NB
PASS
Belgium
Orange
B20
800MHz
G902/MT550/MP90-NB
PASS
Norway
Telenor
B20
800MHz
MT550/MP90-NB/G902-B20
PASS
South Africa
Vodafone
B8
900MHz
MT550/MP90-NB
PASS
PS:
If you would like to get some  CAT M1 & NB-IoT samples to test or any issues please email us at info@mictrack.com